Cup and Ball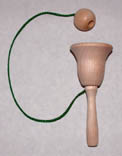 Difficulty level: Easy (level 1)
Actual dimensions: 5" x 2.25"
Material: Wood
Price: $7.00 U.S.



Objective: To swing the ball up and catch it in the cup, (with one hand).
Description: The Cup and Ball game is one of those old-fashion toys that young and old still have lots of fun with, (it is not 'just-for-kids'). A benefit to this toy is that it can help with hand/eye coordination.
Once you start getting good at catching the ball, try to see how many times you can catch it before missing again! (or try switching to the other hand to see just how ambidextrous you are!)
Each puzzle is supplied with an "Objective Sheet" that explains what it is that you are supposed to do. This sheet also includes a picture/drawing of the puzzle, (similar to the one at the top of this page).



Return to "Level 1 & 2" Selection page
Copyright © 1991-2017 The Puzzle & Craft Factory. All rights reserved.