Money Box Puzzle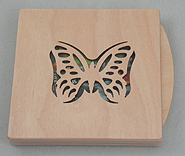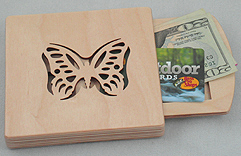 Difficulty level: Moderate (level 3)
Actual dimensions: 5"
Material: Precision Laser-cut wood
Price: $40.00 U.S.

Objective: Find a way to open the box, without using force or banging. When done correctly, the drawer will open with no resistance.
Description: This is the long-awaited for Money Box puzzle! We have put a lot of time and effort into this design. Unlike some other puzzle boxes, there is no need to bang this beautiful box to trip an internal mechanism. This is a sequential-movement puzzle which means that you need to make certain moves in a particular order for the box to open. The drawer that opens is large enough to hold dollar bills and gift cards. The laser cut-out in the top of the box allows the contents of the drawer to be seen, but not removed until the drawer is opened.
Each box is individually made and hand-fitted throughout it's construction for proper fit and operation. We can also do different cut-outs in the top of the box, like from custom artwork, initials, etc.

Each puzzle is supplied with an "Objective Sheet" that explains what it is that you are supposed to do.
Puzzle solutions are also included with the shipment but are not sealed in the puzzle wrapper. This is done so that the purchaser can make the decision as to when to give the solution to the person that is receiving the puzzle, (as a gift, for example).



Return to "Level 3" Selection page
Copyright © 1991-2017 The Puzzle & Craft Factory. All rights reserved.