Monkey Fist Puzzles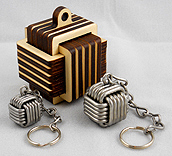 Difficulty level: All three are Very Difficult (level 5)
Actual dimensions: See frames below
Material: See frames below
Price: See frames below




Objective: Disassemble all (15) pieces, then reassemble them back together into the Monkey Fist format as in the picture.
Description: Designed by Ed Seldin, this unique puzzle is presented in three sizes and two formats. The two stainless puzzles are identical with the exception of the size. The wooden puzzle has a unique twist that makes it slightly more difficult to put back together than the metal ones. The wooden puzzle has several coats of lacquer and two coats of wax to enhance the look and feel of this beautiful puzzle. The crafted wooden stand allows the wooden puzzle to be displayed on a desk, table or mantle which would make this a perfect executive gift.
All Monkey fist puzzles include a history sheet on the monkey fist, along with the instructions on how to tie your own monkey fist knot. Also included in the stainless packages is the cord and a marble core to use to tie one of your own.
History: The 'Monkey's fist' is a type of knot, so named because it looks somewhat like a small fist.
The Monkey Fist knot originally began as an often used sailor term. Also called a sailor's knot, the monkey's fist was tied at the end of a line and was used to pass lines from a ship to shore or from one ship to another ship. To add weight, they normally used a large rock, brick or other heavy object placed inside the knot. After completing the monkey's fist at the end of a line or rope, it was then thrown to its destination with ease.
Monkey's fists were also commonly used as weapons by sailors engaged in street and tavern fights during the 19th century. The monkey fist also became commonly used as a slugshot in subculture street gangs.
The monkey's fist used as a keychain makes it handy to drop car keys into a pocket or purse while leaving the knot dangling outside for easy access. The monkey fist can be used as a zipper pull for bags, backpacks, and coats for an easy grip. Tied with a larger rope, it works great as a tug of war toy for dogs or a smaller version could be filled with catnip as a treat for cats.
One of the rapidly growing areas making use of the monkey fist is skydiving. The monkey fist construction is firmer, consistent and more durable than the traditional rope handles used in parachuting. Monkey fist handles give you the personalization of allowing you to match the handle color to the color of your chute.


Monkey Fist Puzzle
Small Stainless
Monkey Fist Puzzle
Large Stainless
Monkey Fist Puzzle
Large Wood
Monkey Fist Puzzle
Large Wood w/stand
Size - 7/8" cube
Size - 1.25" cube
Size - 2.25" cube
Size - 8.00" tall
$14.00
$21.00
$35.00
$53.00
In-Stock
In-Stock
In-Stock
In-Stock









Each puzzle is supplied with an "Objective Sheet" that explains what it is that you are supposed to do. This sheet also includes a picture/drawing of the puzzle in the unsolved condition so there is a reference to look at when putting it back together.
Puzzle solutions are also included with the shipment but are not sealed in the puzzle wrapper. This is done so that the purchaser can make the decision as to when to give the solution to the person that is receiving the puzzle, (as a gift, for example).



Return to "Level 5" Selection page
Copyright © 1991-2017 The Puzzle & Craft Factory. All rights reserved.