Bent Nails Puzzle

- Basic Information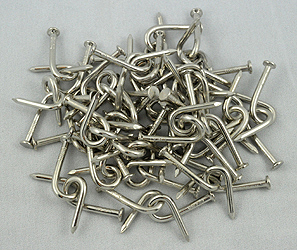 Difficulty level: Simple (level 2)

Actual dimensions: 3.5" x 2"

Material: Steel / proprietary nickel plating

Price: Call or email for volume pricing








Objective: Separate the two bent nails without using any force... then put them back together again as they are in the picture.
Description: Our puzzles are different... First, we have our nails custom-made for us here in the USA. Second, they are made with a 'green' process so as to have less of an impact on the environment during the manufacturing process. Third, our nails have the sharp points removed during the manufacturing process to protect our customers. They also have a custom, heavy nickel plating to keep them from oxidizing. Because our puzzles are all individually hand made here on-site, we have a lot of control over the manufacturing tolerances and therefore make the puzzle somewhat more difficult to solve due to the tighter, more precise tolerances. This does not mean that the puzzle solution requires any force, just that you have to perform the correct movements to solve it!

- Ordering Information
The Bent Nail Puzzle is our highest volume puzzle. They are used as group gifts, in marketing promotions, for training sessions and in many other ways. For that reason, we maintain a higher inventory level of these than any of our other puzzles.
We sell these puzzles in bulk or they can be purchased individually wrapped with our objective sheet inside. We can also create a special objective sheet with your own personal or company information or other details as your needs require.
For the solutions, we can include the solution inside the packaging, or you can receive them hard-copy / soft-copy to distribute as you see fit.
Pricing will vary based on the quantity of puzzles purchased and the degree of additional items that you need, (packaging, objectives, solutions, additional package inserts, etc.). Please contact us with your requirements and we can put a quote together for you...
Return to Homepage
Copyright © 1991-2017 The Puzzle & Craft Factory. All rights reserved.