Ringer_1 Puzzle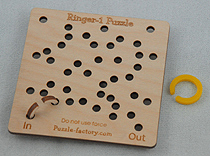 Difficulty level: Moderate (level 3)
Actual dimensions: 3.5" x 3.5"
Material: Laser-cut wood
Price: $10.00 U.S.



Objective: Move the split ring from the "In" to the "Out" corners of the board, (without using force).

Description: This is a beautiful, laser-crafted puzzle. To start the Ringer puzzle, slide the opening in the ring over the edge of the board and loop it through the hole at the "In" corner. Rotate the ring until the ring opening can be moved over the edge of the board again, then align it with another hole. Repeat this step, moving from one hole to another, until you are able to remove the ring from the "Out" corner of the board. There is No Force needed to move the ring around the puzzle board. When you reach a hole that is the proper distance, the ring will easily slip thru it. Two rings are supplied with this puzzle... one wood and one plastic.

Each puzzle is supplied with an "Objective Sheet" that explains what it is that you are supposed to do.
Puzzle solutions are also included with the shipment but are not sealed in the puzzle wrapper. This is done so that the purchaser can make the decision as to when to give the solution to the person that is receiving the puzzle, (as a gift, for example).



Return to "Level 3" Selection page
Copyright © 1991-2017 The Puzzle & Craft Factory. All rights reserved.