Knotted Ring Puzzle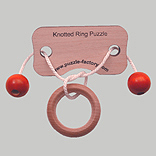 Difficulty level: Simple (level 2)
Actual dimensions: 3" x 5.5"
Material: Wood
Price: Call for quantity pricing


Printable Area: 1.5" x 1.5" (extendable)
Objective: To untie the knot in the cord without using any force (The ring or cord DOES NOT come off).
Description: The standard Knotted Ring puzzle has a printable area that is 1.5" x 1.5". The puzzle can be made larger if necessary to extend the printable area. The available thicknesses are 1/8" and 1/4". There are no removable pieces to this puzzle.
Objective Sheets that explain what it is that you are supposed to do, are available.
Puzzle solutions are also available.



Return to "Marketing" Selection page
Copyright © 1991-2017 The Puzzle & Craft Factory. All rights reserved.