Paddle Puzzle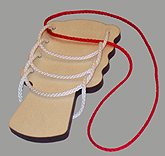 Difficulty level: Very Difficult (level 5)
Actual dimensions: 2.5" x 4.5"
Material: Wood
Price: Call for quantity pricing



Printable Area: 3-1/4" x 1-1/8" (extendable)
Objective: To remove the cord without using any force... then put it back on to where it is in the picture.
Description: This is another true "Level 5" puzzle. This is not for the weak of heart or anyone lacking in strong perseverance. The few folks that have actually solved this one found that there was one step that made the puzzle feel impossible... can you solve that step easier than everyone else?
Objective Sheets that explain what it is that you are supposed to do, are available.
Puzzle solutions are also available.



Return to "Marketing" Selection page
Copyright © 1991-2017 The Puzzle & Craft Factory. All rights reserved.